Application of TBL Silicone Rubber for Auto Parts And Kitchenware
By:tblsilicone
Date:2021/08/22
Silicone material is more and more popular, it has been used to varies areas because of it is good workability, easy stripping, tear strength, eco-friendly and non-toxic. Today we would like to introduce the silicone material-silicone rubber, which is used for auto parts and kitchenware.
Silicone rubber for auto parts:
The automotive industry, which currently produces up to 80 million vehicles per year, is constantly innovating and demanding new high-performance applications, both under the hood and elsewhere in the car. These new advanced automotive parts are often designed to reduce weight and fuel consumption, thereby leading to smaller and more compact engine compartments, resulting in higher temperatures and more stress to vital parts because of higher air pressure, greater water flow, more powerful fuel injection and corrosive fluids. Traditional materials often have trouble dealing with these high temperatures and aggressive conditions.
TBL silicones high-quality HCR (High Consistency Rubber) silicones, for their part, can withstand extreme temperatures of up to 250°C, because of their stability, and are therefore ideal for a wide range of critical parts. Advanced silicones for automotive applications are designed to achieve the best balance between tear resistance and compression set at high temperatures. Furthermore, these advanced silicone products are easy to use in a wide range of processes, such as extrusion, calendering or injection molding, in line with customers' industrial setups.Advanced HCR silicones are ideal for use in a great variety of high-performance automotive parts:-Gaskets-Hoses-Spark plug boots-Wire and cable-Seals-Dampers-Connectors-Rain and distance sensors-Break-protection caps-Head lamp and sun-roof gaskets-Turbo-compressor valves.

TBL Silicone HCR formulations are perfectly adapted to these applications, because they offer the following features: Ease of use – suitable for steam pressure, salt bath and hot air vulcanization, depending on the process deployed (calendering, extrusion, injection, etc.) and therefore versatile enough to produce different parts based on new design features heat stability, capable of resisting temperatures from -60°C to +250°C . Reliable insulation and mechanical perform.
For kitchenware products need use food grade silicone rubber, TBL silicone HCR/HTV/LSR silicone rubber has food grade silicone rubber.
Food grade silicones are increasingly the material of choice for the entire food processing cycle, from large-scale industrial facilities and restaurants to home cooking, as well as in food packaging and labelling. They are convenient, safe, heat resistant, long-lasting, versatile and ensure no modification of food properties and tastes when in contact with food. They are particularly appreciated, by both food professionals and for home cooking, as ideal materials for kitchenware, in particular utensils and molds. This is because they can be specifically designed and manufactured to meet exact specifications, such as hardness, degree of flexibility and heat resistance, to make almost every tool in the cooking process that was previously made of materials such as glass, ceramics, metals, plastics, wood, etc. Silicone utensils are also perfectly adapted to non-stick cooking surfaces and protect the life cycle of pots and pans.Versatile and efficient, silicone materials used for kitchenware are absolutely safe for human contact, as exemplified by the fact that they are also used for demanding childcare products, such as baby bottles.
What are the main applications of silicone-based kitchenware products?Silicone moldsFor many years now, Silicone molds of all sorts, to make creative and convenient shapes for cakes and pastries, ice cream, chocolates and many other foods have entered most kitchens for years. Silicone molds are flexible, easy to demold, resist high and low temperatures, maintain their original shapes, do not alter the taste of food and are easy to wash and store. Utensils Silicone scrapers, spatulas, beater parts, spoons, oil brushes are just some of the most popular uses for silicone kitchen utensils. These cooking tools can be designed and manufactured to exact degrees of hardness and flexibility, are stable and durable and can be used in all mixing and cooking recipients, including those with scratch-free protection.RecipientsFood grade silicone is used to make bowls, basins, plates, cups and many other food and human contact products. Summary of the features of silicones for kitchenware:Excellent heat and cold resistance over a wide span of temperatures (-60°C to 250°C)Easy to demold thanks to customizable formulation and post-polishing finishesExcellent tensile and tear strength features to create robust and durable productsGuarantee of safe and neutral effects on food and taste.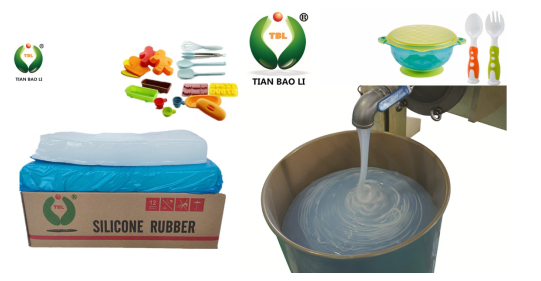 Finally, TBL Silicones food grade silicone rubber products are ISO 14001 certified for biocompatibility and compliant with the highest national and international regulatory and quality requirements, including approval by the US FDA, the European Union regulation concerning the Registration LFGB, Evaluation, Authorization and Restriction of Chemicals (REACH), the German Food, Articles of Daily Use and Feed Code, etc.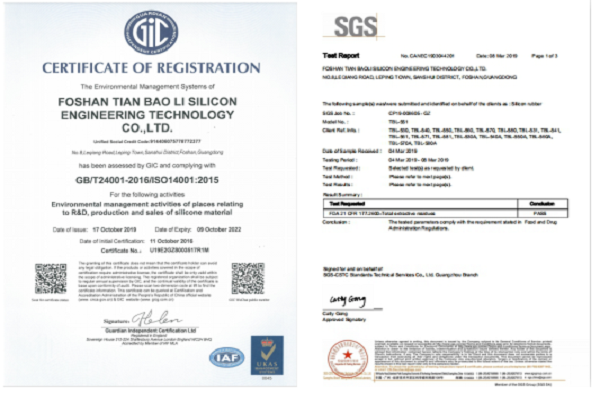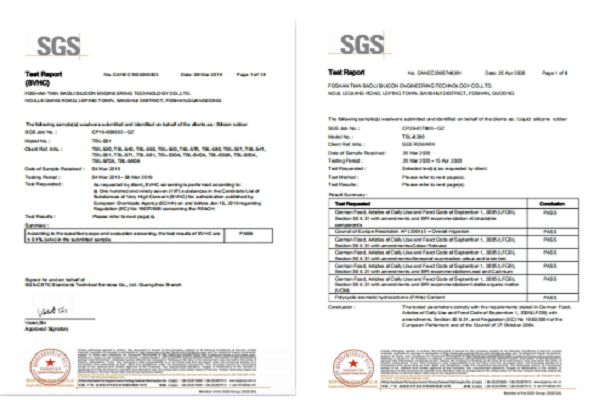 CONTACT US


Foshan Tian Bao Li Silicon Engineering Technology Co., Ltd.
We are always providing our customers with reliable products and considerate services.
If you would like to keep touch with us directly, please go to contact us