Plantinum Cured Vs Peroxide Cured Silicone Rubber
Introduction of Cured Silicone Rubber
In the world of silicone rubber, "Platinum Cured Silicone" and "Peroxide Cured Silicone" are common words. If you are new to the world of silicone elastomers, there may be some confusion when choosing one over the other, as both are grades of silicone with different cure mechanisms, and each has advantages and disadvantages. In this blog post, we will try to provide detailed comparisons and resolve common confusions. This will help you make better choices.
What Is The Process of Curing ?
According to Wikipedia, "silicone curing" is a fundamental chemical process in polymer chemistry used to crosslink polymer chains. It is a key process in the elastomer industry for curing or curing uncured synthetic or natural rubber materials into the desired shape and size. Curing is usually achieved by adding chemical additives (hardeners or hardeners) or by using heat or UV systems without chemical additives.
Silicone Rubber Curing
Since silicone elastomers are also made up of polymer chains, similar curing is required before manufacturing the finished silicone rubber. Silicone rubber is a thick, viscous liquid when uncured or uncured. In order for it to harden, it must undergo a cross-linking and hardening mechanism (hardening mechanism), which takes place through a catalytic reaction, i.e. the cross-linking of the liquid polymer system, where it builds up and hardens . Silicone is mostly made in a two-step process to the desired shape and size. This is done at manufacturing and then continues during the post-curing process. The operating elements during curing are widely varied to provide end results with various properties. This process is irreversible.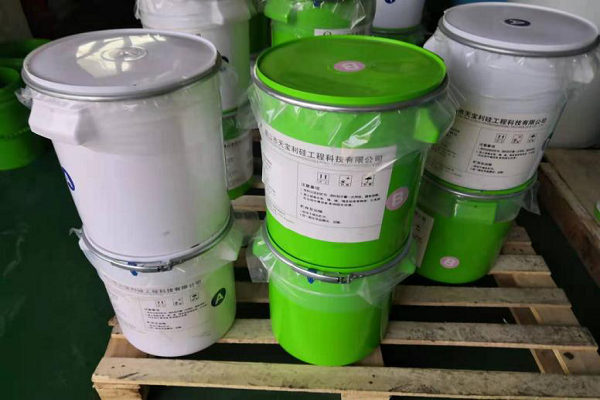 When it comes to the cured silicone rubbers, the most common types are platinum HTV silicone, GFD2061PT, FUSHITE, and RTV-2. Each type has unique properties and uses. Here's an overview of what each type is used for. Once you've mastered the basics, you can learn more about different types of silicone rubbers. You can also learn more about their processing methods.
Heat Cured Rubber
High-Temperature Vulcanizing, or HTV, Silicone Rubber is made from reactive gums of silicone that are capable of increasing the mechanical properties of the material. Its heat-stabilizing process is made possible by the addition of organic peroxides that cross-link the silicone molecules to make them more stable. Among its benefits is its high consistency, which makes it resistant to high temperatures. Regardless of the application, HTV silicone rubber is a versatile material, suitable for many applications. When compared to other types of silicone materials, platinum-cured silicone is more durable. It is also resistant to chemicals and temperature. It can withstand high-temperatures, enabling its use in complex designs and molding. The liquid rubber is made from two parts: Part A and Part B. The fabricator blends the two parts, then begins the curing process. Once the mixture has cured, it is ready for use.
GFD2061PT
The GFD2061PT platinum-cured silicone rubber is ideal for molding and extrusion applications. Its high-transparency properties make it a good choice for molds that are platinum vulcanized. This silicone is also available in shore A hardnesses of 40, 50, 60, 70, and 80. Its platinum-cure properties provide a long-lasting bond and minimize downtime. The chemistry of this solid silicone is based on the addition and condensation curing of tin salts and platinum. The platinum catalyst transforms the silicone rubber from a liquid to a solid. It is an excellent choice for applications where high-performance is needed, such as in medical devices and consumer goods. This type of silicone is biocompatible, hypoallergenic, and suitable for use in food and baby care products. Its excellent electrical and mechanical properties also make it an ideal choice for many applications.
The GFD2061PT platinum HTV silicone is available in a variety of forms. It is available in powder form and as a liquid. Its solid form is ideal for injection and compression molding. Its thin consistency also makes it easy to apply. While liquid silicone rubber has great physical properties, it has weak chemical resistance, which is why it's perfect for building and constructing. This material is a good option for mold-making applications and can improve mechanical properties.
RTV-2 Platinum HTV Silicone
Platinum HTV silicone RTV-2 is a two-part pourable material that can be cured rapidly. This versatile elastomer retains full elasticity even at temperatures up to 180 degrees Celsius. Some formulations of this material can withstand short exposures to temperatures of up to 300 degrees Celsius, making them perfect for mold making. The RTV-2 silicone elastomer also has a long shelf life when stored at room temperature (20 to 25 degC). This flexible, flowable silicone has excellent mechanical, thermal, and electrical properties. Its ten-fold higher gas permeability at room temperature compares to natural rubber and has excellent ageing and weathering resistance. In its uncrosslinked state, this silicone has good rheological and electrical properties. It can be used for various applications in medical devices and other industries. Its high transparency is a major advantage when used in the dental industry. Liquid silicone rubber (LSR) molds and tubing are becoming increasingly popular in manufacturing and many other industrial processes. The difference between silicone molds and tubes is the type of curing process they use. Peroxide-cured silicones use a process called free radical curing, while platinum-cured silicones use addition curing.
Features of Platinum Cured Silicones
No material is suitable for all trades. By far the biggest advantage of using platinum cured silicone molds is that the platinum curing process does not create peroxide residue, so the risk of mold scaling is greatly reduced. This reduces downtime, increasing your overall productivity. Other benefits of platinum HTV silicone curing can include improved product clarity and consistency, and potentially better elongation, tensile, and tear strength compared to peroxide-cured materials. However, platinum-cured silicone also has its drawbacks. Platinum hardening tends to be more expensive, increasing your initial operating costs (although these initial costs may be offset by productivity gains over time). Platinum is also susceptible to contamination, and exposure to latex, sulfur, tin-cured silicone, and other products can inhibit its hardening. However, with care, these problems can be avoided.
Concurrence Cure System
The platinum-cured silicone elastomer has several advantages over peroxide-cured silicone elastomers. Its constant modulus, low volatility, and high tensile strength are all important benefits of platinum-cured silicone. It also cures much faster than peroxide-cured silicone and is safer for many construction and mechanical applications. The downside is that this type of silicone is not food or medical-grade. In contrast, the peroxide-cure process can produce by-products such as volatile organic acids. These can give silicone an oily feel. These compounds are called "bloom," and are usually powdery white. Despite the post-cure process, they can still contaminate the cured material. That's why platinum-cured silicone is preferred for certain applications. This product also has better optical clarity and tear strength than peroxide-cured silicone.
Among the major advantages of using the platinum-cured silicone, it is the best choice for applications where purity is of utmost importance. Compared to peroxide-cured silicone, platinum-cured silicone is clearer and less oily. It also has better elongation and tensile strength. In addition, it can be molded into any desired shape, and it has amazing hardness. The platinum-cured silicone is widely used in many industries, including electronics, food storage products, and automotive parts. Its features include a long heat-resistant life, fine detail reproduction, and extreme hardness. Platinum-cured silicone is also resistant to chemicals and is ideal for high-tech applications that require a high degree of toughness and tear resistance. The platinum-cured silicone is also known for its low odor and no post-cure processing.
Because of the superior durability of platinum-cured silicone rubber, museums often use them for molds of valuable artifacts. Platinum-cured silicone rubbers are ideal for this purpose because they resist shrinkage and have a long library life. This type of silicone is the most economical and widely used silicone, but it is prone to tearing and cracking. Aside from these reasons, platinum-cured silicone rubbers can also be used for molding, including masking and lining.
Increased Strength
Placing a catalyst such as Pt or Rh in the mix can improve the strength and durability of silicone elastomers. Rh is more poison-resistant, but it is harder to work with in silicone elastomers. Sn catalysts, on the other hand, are robust and poison-free. Condensation silicone elastomers have the added benefits of rapid curing and control over network structure. Besides, Platinum-cured silicone rubber improves dielectric properties of a silicone film. The material's high dielectric strength and dielectric properties make it a superior candidate for use in a range of applications. It can be used in dielectric transducer films for improving the properties of the film. The use of this material in this field has many advantages, and should be considered when considering plastic surgery.
Inherent Optical Clarity
While peroxide-cured silicone tends to be more opaque, platinum-cured silicone exhibits an inherent optical clarity. Its tear strength is higher than peroxide-cured silicone, making it the preferred material for many medical and food applications. So, when considering the benefits of Platinum-Cured Silicone, it makes sense to consult with an expert.
Features of Peroxide Cured Silicone
Additive or platinum cured silicone rubbers offer an increasingly popular alternative to traditional peroxide cured silicone products, especially for healthcare applications that require the highest purity and cleanliness of the material. The name "addition cure" comes from the vulcanization reaction, which consists of a multifunctional silicon hydride crosslinking agent that cures with longer crosslink chains in the presence of noble metal catalysts such as platinum to increase tensile strength and flex capabilities exceeding peroxide cured silicones.
Peroxide-cured silicone sheets and tubing are more cost effective than platinum-cured versions because the raw materials are cheaper and therefore the finished product is less expensive. It is also easier to produce due to the lower temperatures required to cure silicone. Peroxide curing gives silicones a longer shelf life and can last longer. Unlike platinum compounds, however, silica can yellow over time due to peroxide catalysts. Unlike peroxide grades, platinum is clearer and does not contaminate, which is why it has become the first choice of food and beverage manufacturers.
What Is The Peroxide Cured Silicone Material ?
In peroxide-cured silicones, the peroxide is decomposed at high temperatures, thereby cross-linking the polymer in the chain. In recent years, peroxide vulcanized silicone rubber gaskets have gained popularity in various industries due to: Peroxide-cured silicones are resistant to engine coolants, alcohol, hot water, ketones, steam, organic and inorganic acids, brake fluids formulated with polyethylene glycols. The thermal stability of the compound is improved during peroxide curing. Peroxide cured materials can withstand temperatures up to 300°F, while sulfur cured materials are only suitable for temperatures up to 250°F. Peroxides are also known to improve the compression properties of compounds in which they are added, so the same effect can be expected for peroxide cured EPDM materials.
In addition to the above properties, peroxide cured gaskets are known for their resistance to aging and are less likely to discolor or bloom even with prolonged use. Additionally, these gaskets and seals will not cause discoloration or staining of PVC or metal. Platinum cure liquid silicone rubber gaskets are not recommended for applications likely to come into contact with greases, aliphatic, chlorinated and aromatic hydrocarbons, mineral oils and other fuels. Traditional peroxide-cured silicones - dimethylpolysiloxane and methylvinylpolysiloxane - make up the majority of molded and spin-cured silicone rubber sheets on the commercial market. A by-product of the thermal hardening process can be a white crystalline powder that spreads to the surface, known as blooming. To prevent future rubber reversion and to meet general health care requirements, post-curing in a hot air circulating oven at 400°F to 480°F for 2-4 hours is recommended.
Benefits of Peroxide Cured Silicone
Silica-based products have a longer shelf life.
It is a cheaper material than platinum silicon. This means that silicone extrusions such as rubber tubing and silicone sheets can be sold at more competitive prices.
It is easy to process and can be hardened at lower temperatures due to its low heat resistance.
This curing process will improve the compression properties of the peroxide cured silicone rubber.
Disadvantages of Peroxide Cured Silicone
Peroxide-cured silicones can self-adhere during production and post-cure, especially in the softer grades (grade list can be found in our datasheet).
Peroxide cured silicone is not as transparent as platinum cured silicone. It also has a more translucent appearance.
Why Platinum-Cured Silicones Rubber Be Applied In Medical ?
Platinum hardening technology has been around for a long time, especially for applications that require high purity products, such as medical devices, food and beverage processing industries, and pharmaceutical applications. In platinum-cured silicone systems, two different chemical groups react in the presence of platinum. It is also known as "addition hardening" or a two-part system. Compared to peroxide compounds, the details are more complicated. The base silicone polymer should contain vinyl functionality. Unlike peroxide curing systems, platinum is a true catalyst. It is not ingested by the process. In fact, in platinum curing systems, platinum-catalyzed reactions occur even at normal temperature and pressure, so the activity must be technically reduced. The first request-response occurs much faster than that initiated by peroxide because it does not depend on the rate determining step.
Platinum HTV silicones are synthetic elastomers that require curing or cross-linking. In medical applications, the most common curing systems use peroxide or platinum. Peroxide systems are the oldest cross-linking chemistries for silicones, but require post-curing to remove by-products such as volatile organic acids. In contrast, platinum-cured systems do not require post-curing because there are no by-products. Platinum hardening also allows better control of the hardening rate. Platinum-cured silicone gaskets are used for medical devices requiring ultra-pure materials. These ultra-clean silicones contain very low levels of extractables, compounds that migrate under conditions such as surface contact or elevated temperature. Applications include wearable medical devices and wired or wireless medical devices where seals may come into contact with human skin or require repeated sterilization.
For medical device designers, platinum cure liquid silicone rubbers offer several important advantages. First, these medical-grade materials are available in a variety of hardness and color options to support application-specific designs. Platinum cured silicones also meet stringent regulatory requirements and industry standards. Finally, these elastomers allow precision cutting for efficient gasket manufacturing. Medical silicones can be polymerized with peroxide or platinum. Peroxide-cured silicones require the removal of volatile organic acids (VOAs) and other potentially harmful by-products. The post-cure process used increases costs and lengthens supplier lead times. Peroxide-cured silicones also have a less seamless appearance, which is a disadvantage in applications where gaskets or medical seals are visible.
In contrast, platinum-cured silicones have significantly lower levels of VOA and other extractables. There are also fewer exhaust emissions, and the fumes or gases released can contribute to unpleasant odors or volatile organic compounds (VOCs). Since platinum curing is easier to control than peroxide curing, peroxide cured silicone gaskets also have a more consistent appearance for improved aesthetics.
In Conclusion
Finally, the two most widely used silicone curing systems, peroxide curing systems and platinum curing systems, both provide safe and durable silicone rubber parts. However, they differ in procedure, effectiveness, quality, results, and cost. Platinum cured systems are the best choice when high quality, critical quantities or repeated purifications are important. On the other hand, peroxide curing systems are a better choice for cost effective, flexible and less demanding products. It is generally a more affordable option than platinum cured silicone, but not all, and generally exhibits longer pump life in peristaltic pump applications.
TBL silicone rubber manufacturer is an experienced, reliable and customer focused manufacturer of silicone rubber parts that manufactures and supplies silicone tubing, platinum cured tubing, food grade gaskets and other rubber parts to your specifications . They have extensive experience with peroxide-cured silicone and platinum-cured silicone systems and can guide you in making decisions and achieving the desired level of execution throughout the development process.
CONTACT US


Foshan Tian Bao Li Silicon Engineering Technology Co., Ltd.
We are always providing our customers with reliable products and considerate services.
If you would like to keep touch with us directly, please go to contact us