Food Grade Liquid Silicone Rubber for Infant products TBL-8280 Series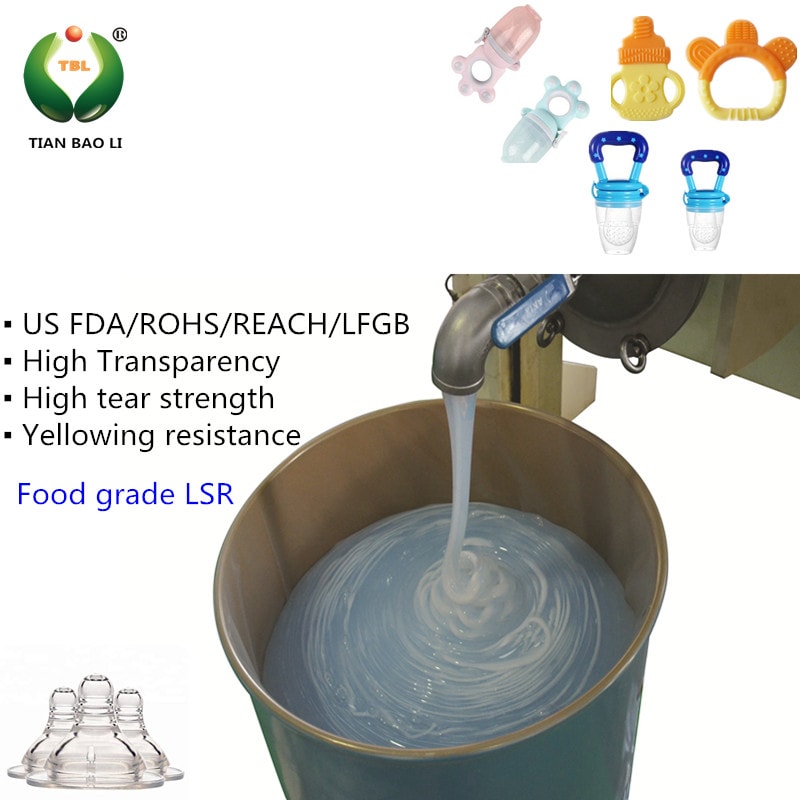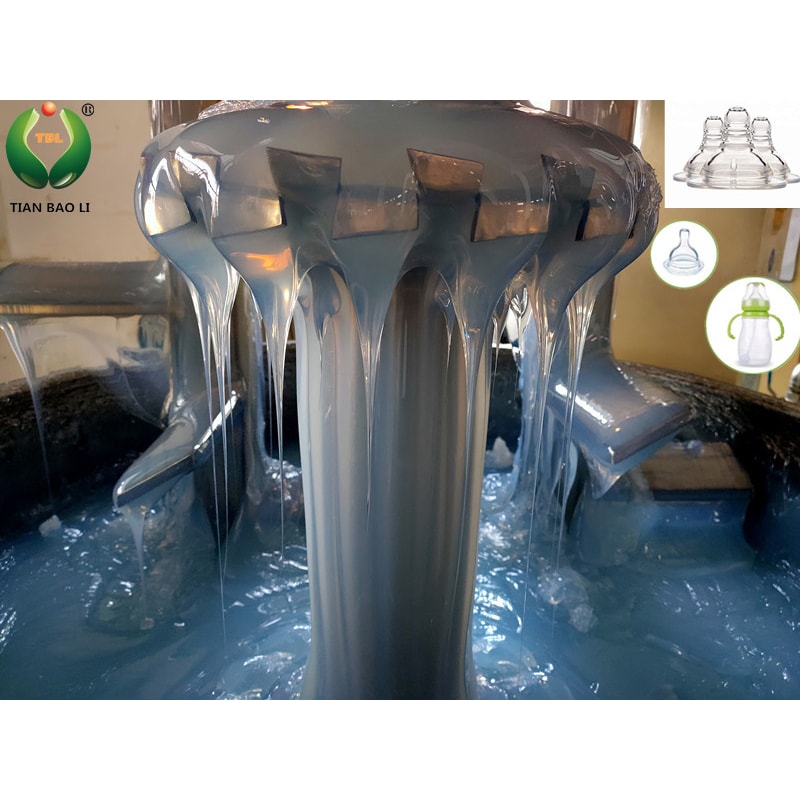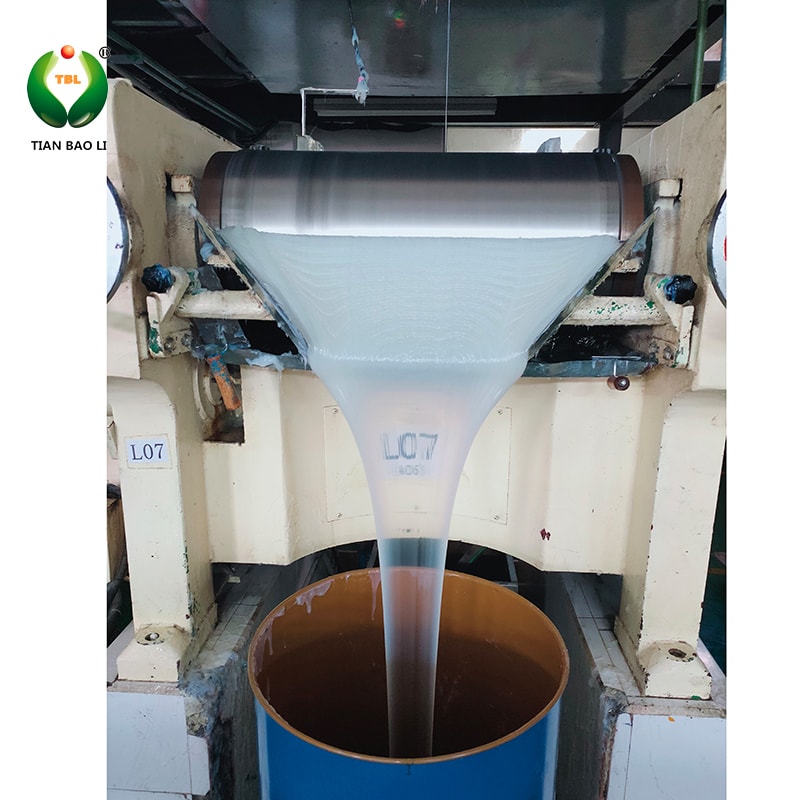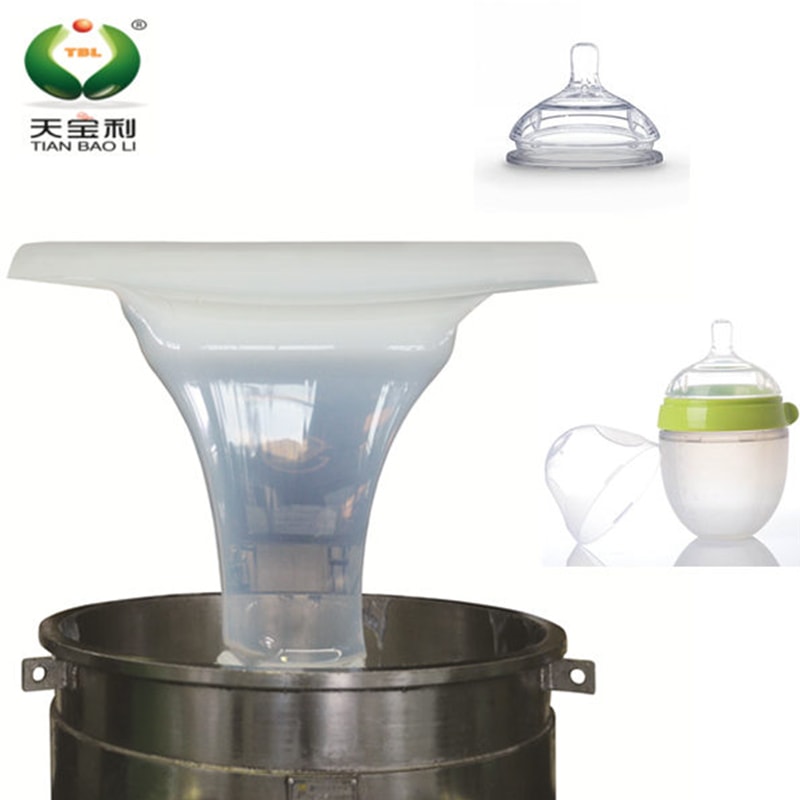 Food Grade Liquid Silicone Rubber for Infant products TBL-8280 Series
Place of Origin: Guangdong, China
Brand Name: TBL
Model Number: TBL-8280
Quantity: 1000 Kilogram/Kilograms (Min. Order)
Support: Sea shipment; Air shipment
Lead Time:
Quantity(Kilograms): 1 - 10000>10000
Est. Time(days) 5 Negotiable
Payments: This supplier also supports L/C,T/T payments
Package: 20KG/200KG Bucket+Pallet
This series product is two-component addition type liquid silicone rubber, which has high transparency, high anti-tear strengthen and excellent tensile property. It adopts the liquid injection molding process technology and has fast forming speed. It passes FDA food grade certificate and is widely used on manufacturing of food grade products, such as infant product category baby nipple, pacifier, molar rod etc.
Color: Transparent.
Application: baby products,baby nipple,pacifier,molar rod, feeding bottle.
Appearance: Colorless Transparent Liquid.
Product name: Liquid Silicone Rubber.
Hardness Shore A: 20 - 80.
Features: High transparency; High anti-tear; Anti yellowing; Fast forming speed.
Shelf life: 12 Months.
HS code: 3910000000.
Viscosity: Favorable.
Product Presentation
This product doesn't use substances prohibited by ROHS instructions, and hazardous substances shall be implemented according to ROHS instructions. The third party certification reports such as ROHS, REACH and FDA will be updated every year.
Travel Release Of Liability
All above suggestions on using are based on our experience. Consumers must conduct their own experiments and analysis to determine whether these products are suitable for the special use of users. In no case shall we be responsible for the end use of the consumer. Every procedure must be adapted to all legal rules and authoritative legislation.
Product Features
High Transparency.
High Anti-tear property.
Yellowing resistance.
Fast forming speed.
Meet the American FDA Food Grade Certificate/ROHS/REACH/LFGB Certificate.
How To Use
1.We suggest that the consumer use the liquid injection molding machine to inject into the mold and manufacture products.
2.The two components of A and B must be completely mixed according to the weight or volume ratio of 1:1. The vulcanization time is determined to the mold temperature.Under high temperature conditions,the short time required for product molding. If the silicone product is thick and large, it takes a long time to form.
Packaging, Storage and Caution
1.This series of product is packed in 20KG/Plastic Straight Barrel or 200KG/Iron Drum. All the products in the barrel or drum are packed in plastic bags.
2.Sealed and stored it in a cool place out of rain and direct sunlight.
3.This series of products are non-dangerous goods. The valid period is 1 year. If the products exceed the storage life, test it again and can still be used after passing the overdue inspection.
4.Avoid contact with condensed type silicone rubber vulcanizing agent during operation. Amines, Sulfur and Phosphorus-containing compounds and some metal salts may cause liquid silicone rubber without vulcanization.
Item Model

TBL-8280-20

TBL-8280-30

TBL-8280-40

TBL-8280-50

TBL-8280-60

TBL-8280-70

Proportion

1:1

1:1

1:1

1:1

1:1

1:1

Appearance

Transparent

Transparent

Transparent

Transparent

Transparent

Transparent

Viscosity/mPa.s

50×104

70×104

80×104

90×104

100×104

120×104

Hardness/Shore A

20

30

40

50

60

70

Tensile Strength/MPa

5.0

8.0

9.0

10.0

9.0

8.0

Elongation/%

700

700

600

500

400

300

Tear Strength/kN/m

10

15

25

30

30

30

Specific Gravity/g/cm3

1.09

1.10

1.11

1.12

1.13

1.13

Molding Condition: 130°C X 5Min
In recent years, liquid silicone rubber has become a popular choice for keypads and other items in high-risk areas such as hospitals. This material comes in various forms such as sheets, rolls, slabs and pastes. Because it has the added benefit of being able to stretch, liquid silicone rubber is able to bond with hollow plastic parts such as air-compression valves and air ducts to provide a secure, flexible, and lightweight support. It also has many other uses in industries where stability is critical, such as those involving the construction and transportation of ships, trains, and trucks.
As liquid silicone rubber ages, it changes from a solid to a semi-solid state. This means that while it still provides an effective barrier to abrasion, it can now also be used to fill in holes and cracks. For instance, if a road is being repaired, the road-repair contractor can put down a sheet of liquid silicone rubber and fill in the area by driving over it with a piece of equipment. The thickness and pliability of this product allows it to mold itself to any shape. By carefully thinning out the liquid silicone rubber, it can then be applied to a variety of other items including air compressors, pipe fittings, and pipes or tubing to provide a wide range of filling options.
When selecting liquid silicone rubber, it is important to determine the level of elasticity required for the application in question. As it is solid, it will not expand unless stretching. This makes it ideal for use in a variety of key lock applications where a thin, flexible layer is desired such as in automobile windshields where it provides excellent structural support. It is also used to fill in voids between holes in the vehicle as well as in the engine compartment. Liquid rubber is also often used to fill in scratches on cars and boats.
The benefits of liquid silicone rubber for keypad printing are fairly self-explanatory; it is extremely durable and elastic, and it is both cost effective and flexible. Because it is able to expand to fill in gaps, it does not damage the surface to which it adheres. As long as the correct amount of silicone is used, it will prevent surface damage to itself as well as prevent the spread of mold. This can help make it an excellent choice for key pad printing where aesthetic appearance is secondary to functionality.
Of course, like all rubber products, liquid silicone rubber for keypad printing will not remain smooth and supple forever. Eventually, the expanded polymer will begin to strain and warp. When this occurs, it is important that you remove the rubber from the keypad in question before it begins to degrade. If you attempt to force the substance, it will result in cracking and a release of harmful bubbles that contain high levels of adhesive.
Fortunately, this is an uncommon problem with liquid-filled keypads. More often, the material will simply crumple when pressed. If you find that your keypad material is beginning to tear at the edges, it may be time to replace it with another type of keypad material. In many cases, you can find replacement keypads online at affordable prices.
CONTACT US


Foshan Tian Bao Li Silicon Engineering Technology Co., Ltd.
We are always providing our customers with reliable products and considerate services.
If you would like to keep touch with us directly, please go to contact us